Made for Best-in-Class
AP Automation
You've optimized and refined your workflow.
Unlock its full potential with Intelligent Invoice Capture™.



Reinventing the worst part of AP to help you leverage the best.
AP automation has transformed real estate AP, delivering speed, savings, and efficiency.
But with most companies still using manual data entry for invoice capture, few realize the full benefits of AP automation.
Eliminate the data entry. Keep the workflows you trust. Get more from AP automation by using PredictAP.
Built to Fit Your AP Workflow
PredictAP was designed to enhance the workflows you use every day.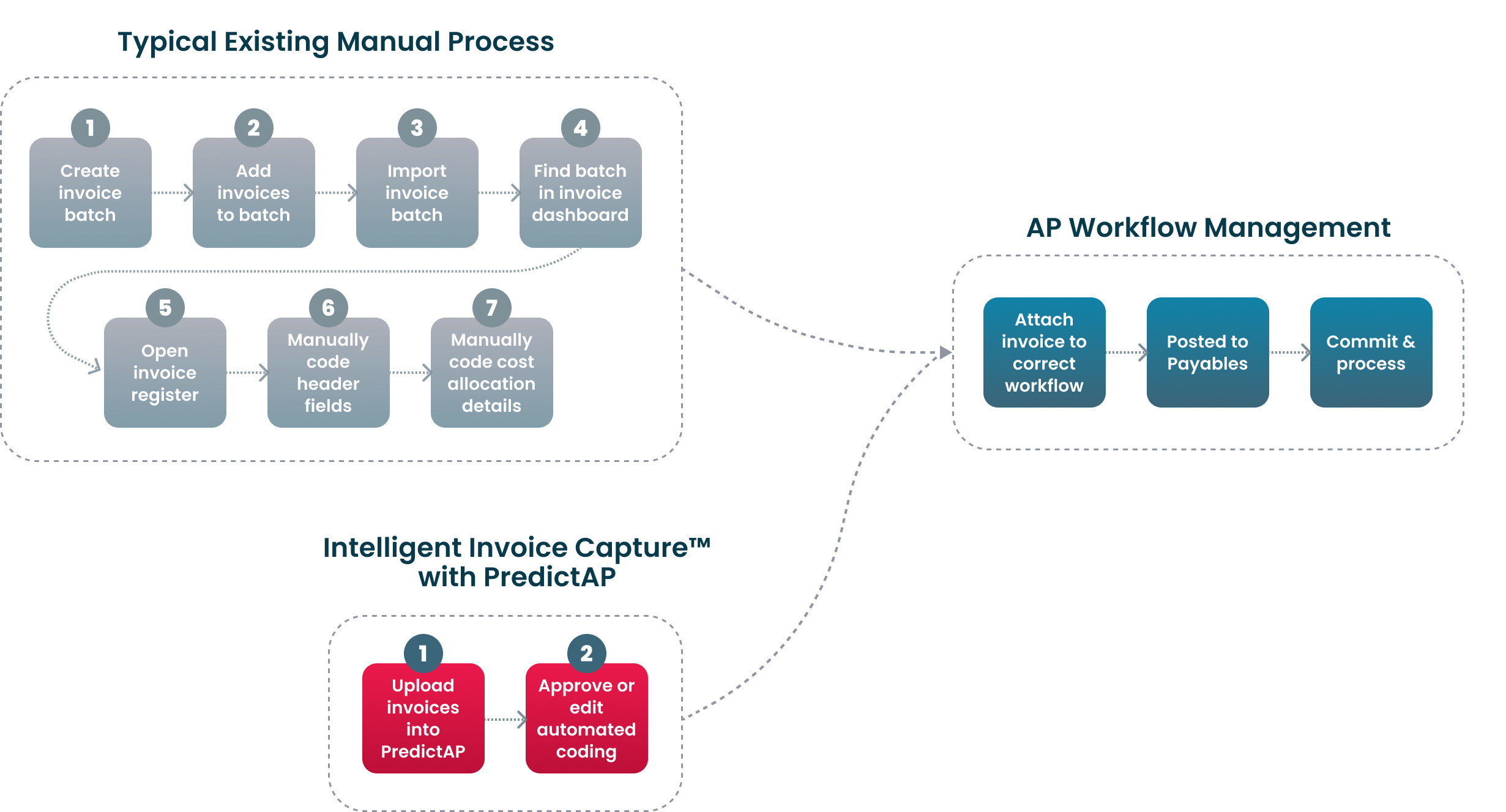 Your AP Workflow
PredictAP connects to your automated AP workflow, so review and approval happens as usual. Invoice capture gets smarter without disrupting your trusted flow.
Your AP Process
PredictAP learns to code invoices just as your team would. Every prediction is informed by historical data from your invoices for accuracy and consistency.
Your AP Data
Direct integration with your AP automation solution happens via API, sending data back and forth without interruption, learning from each processed and paid invoice.
SOLUTION LANDSCAPE
Fulfilling the Promise of AP Automation
AP automation is being adopted by real estate companies—but not reaching its full potential.
What is AP Automation?
AP automation solutions manage the lifecycle of an invoice, from capture, to review, to payment, but most often refers to platforms for AP approval workflows.
Their benefits include:
Invoice processing speed
Auditing and oversight
Accuracy and consistency
Even for businesses that use some AP automation, invoice coding remains a manual part of their process.
Where does PredictAP fit in?
PredictAP bridges the gap between invoice capture and AP automation. Once invoice data is ingested, manual data entry required for coding slows down the whole process.
PredictAP uses machine learning to provide Intelligent Invoice Capture™ capabilities. We bridge the gap between receiving a new invoice and realizing the true power of AP automation.
INVOICE CAPTURE
The ingestion and coding of invoices.
AVAILABLE SOLUTIONS OFFER partially automated ingestion via OCR and outsourced ingestion via offshoring or vendor-initiated payments.
Invoice coding remains a manual in-house process.
INTELLIGENT INVOICE CAPTURE™
Automates both ingestion and coding of invoices for review and payment with the help of machine learning.
PredictAP is the first and only Intelligent Invoice Capture™ solution built specifically for real estate AP.
AP AUTOMATION
Designed to follow a consistent pre-defined process of review by the appropriate parties and business entities to approve for payment via automated workflows.
PAYMENT PROCESSING
The financial or treasury system of record for payments that interfaces directly with your business banking.
INTELLIGENT INVOICE CAPTURE
See how it works.