A large real estate investment trust struggled with rising AP costs.
Accounts Payable at a large REIT was stuck in the past—like many others in real estate and other industries—relying on manual data entry and coding decisions made by siloed AP teams.

The team had already implemented available solutions: AP Automation, which streamlined approval workflows but ignored invoice capture; ingestion solutions like OCR, offshoring and vendor-initiated payments—none of them addressed coding.
None of the tools they tried solved the real problem: coding. So they built their own.
Their custom on-premise machine learning solution did more than dampen costs. Invoice processing time decreased 5X within just a couple months, while improving accuracy to over 90%.

While sharing their success with industry peers, the team saw an opportunity to deliver the same savings and efficiency at a larger scale by turning their project into a product.
Enter PredictAP: a state-of-the-art cloud-based solution for real estate AP.
In early 2020, Russell Franks joined David Stifter to found PredictAP and make it a scalable, cloud-based SaaS solution.

The founding team combines engineering expertise from Apple, Google, HubSpot, and Datadog to complement their deep knowledge of real estate, finance, and process improvement.
PredictAP Today
PredictAP is the only AI-powered invoice capture solution built for Real Estate AP.
PredictAP leverages historical invoice data and proprietary AI to rapidly code invoices without needless data entry.
It integrates with industry-leading AP workflow automation solutions, delivering massive cost savings and increased efficiency.
We call it Intelligent Invoice Capture™.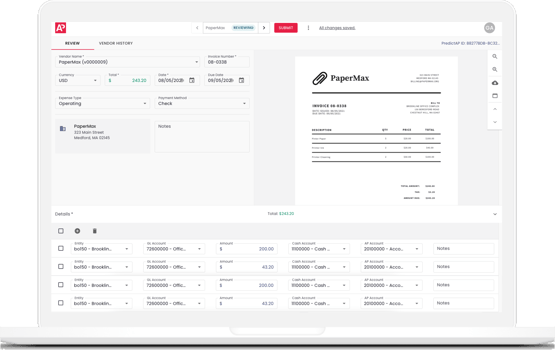 See Our Customer Ratings
Top-rated accounts payable software for the real estate industry.
Transform your AP
See PredictAP in Action