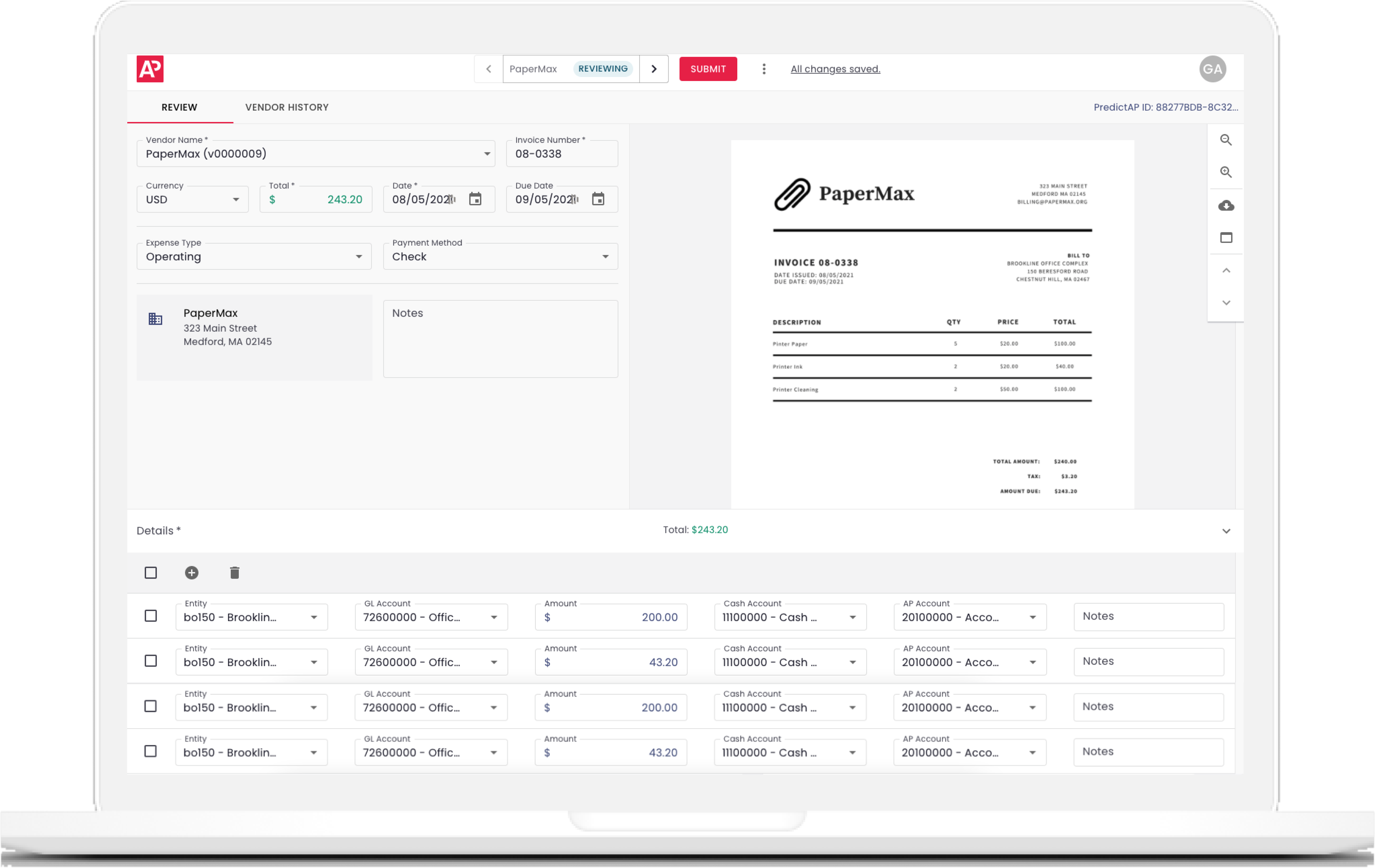 Fully coded invoices without manual data entry.
Integrated with your AP workflow.
Powered by machine learning.
What is a fully coded invoice?
Most invoice processing solutions capture data exactly as displayed on new invoices. Only PredictAP provides fully coded invoices by using machine learning and historical invoice data.
How We're Different
PredictAP can process in seconds what can take days with other solutions.
When considering your options, look for direct integration with AP automation, as well as full indexing and coding functionality.
| | | | | | |
| --- | --- | --- | --- | --- | --- |
| Solution Capabilities | PredictAP | Indexing Service Providers | Vendor Payment Portals | OCR Tools | Document Processing Services |
| Invoice ingestion & indexing | | * | * | | * |
| API integration with AP automation | | | | | |
| Real Estate AP focus | | | | | |
| Enhanced error detection | | | | | |
| Fully coded invoices | | | | | |
* Tech-enabled outsourced labor solution
Unlike OCR or indexing service providers, PredictAP ingests new invoice data, indexes it into your AP system of record, and applies coding rules automatically.
While other available solutions can deliver various levels of indexing, and some integrate with AP automation, they only capture data displayed on new invoices and do not address coding.
PredictAP is the only complete solution to address both invoice indexing and coding. It's also the only solution to fully automate indexing and coding, and eliminate needless data entry.
Increased AP Efficiency
Reclaim 50% of the time your team typically spends on manual data entry.
Faster AP Cycles
PredictAP learns how you code invoices, and automates the manual work.
Reduced AP Costs
Eliminate errors, delays, and the resulting late fees.
Enhanced Error Detection
Errors, duplicates, and inconsistencies flagged.
Increased Visibility & Control
Built in invoice queue search, filtering, reporting.
Seamless AP Integration
One-click data sharing with your AP automation system.
Gold-standard Data Security
Reliable, scalable, built on AWS & security best practices.
INTELLIGENT INVOICE CAPTURE
See how it works.