Made for Best-in-Class
AP Automation
PredictAP integrates with AP automation systems to automate invoice capture and coding.


You've optimized and automated your accounts payable workflows.
We've optimized PredictAP to work with the flows and systems you trust.
Automated invoice capture and coding
in one complete solution.

AP staff upload new invoices into predictAP. THey review the automatically coded invoices, then send them to the usual AP workflow.

PredictAP ingests and indexes invoice data, then predicts and applies coding based on invoice history. No data entry required.
STEP 1
Upload
Send new invoices into PredictAP using drag and drop or dedicated email inbox.

STEP 2

Predict
PredictAP indexes data, applies GL & property codes, expense types, allocations, etc.

STEP 3
Review
Approve or edit codes and allocations to improve future predictions.

STEP 4
Submit
Send fully coded invoices to your AP workflow automation system with one click.



Your AP Team Will Love It
It's friendly, I love the ease of it. It gets our codes into the fields and you don't have to type anything in—it's doing it for you!"
"PredictAP saves me so much time! It's It's a couple of clicks, and I'm on to the next thing."
Your AP Automation Workflow, Made Better
Get fully coded, approval-ready invoices into your AP automation faster than ever.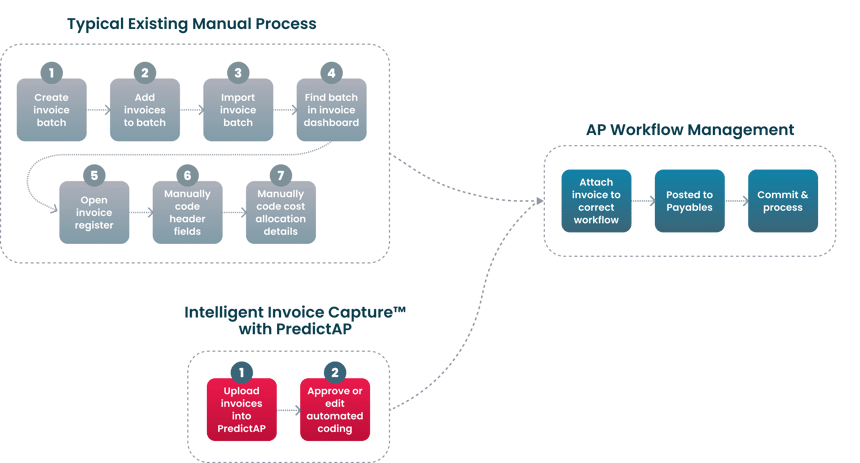 Your AP Workflow
PredictAP connects to your automated AP workflow, so review and approval happens as usual. Invoice capture gets smarter without disrupting your trusted flow.
Your AP Process
PredictAP learns to code invoices just as your team would. Every prediction is informed by historical data from your invoices for accuracy and consistency.
Your AP Data
Direct integration with your AP automation solution happens via API, sending data back and forth without interruption, learning from each processed and paid invoice.
INTELLIGENT INVOICE CAPTURE
See how it works.