NEWS
PredictAP Announces General Availability of Automated Invoice Coding Platform for Real Estate Accounts Payable
Machine learning-enabled platform eliminates manual data entry from invoice coding
BOSTON, Mass., November 19, 2021 - PredictAP Inc., provider of a cloud-based invoice capture solution announced general availability of its automated invoice coding platform for real estate accounts payable (AP).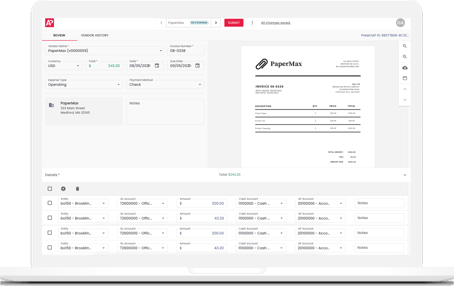 Designed to integrate with leading real estate-specific AP automation platforms like Yardi PayScan and NexusSystems, PredictAP combines new and past invoice data and uses machine learning to automatically predict and apply the coding, allocation, and expense account information needed for approval and payment. It is the first and only solution to fully automate invoice coding for real estate AP.
PredictAP raised $3.4 million in 2020 from real estate industry veterans to kick off development work, run a customer pilot program, and file provisional patents related to its novel use of machine learning. It has now released the platform commercially and started onboarding new customers. Over the coming weeks, PredictAP will begin announcing the initial customers using the platform.
"The response from early adopters has been tremendous so far," says PredictAP co-founder David Stifter. "Many large real estate investment firms process tens or hundreds of thousands of invoices in a year, and coding them via manual data entry is a massive efficiency bottleneck—and it's incredibly expensive. When we automate that manual work, the time and cost savings are swift and significant."
PredictAP has become a Certified Integration Partner with Yardi Systems, Inc., the market leader in Property Management Software. Through their Standard Interface Partner Program, PredictAP now has full access to Yardi's Vendor Invoicing API and is approved to work with all Yardi Voyager 7s customers.
PredictAP customers can expect to improve efficiency, increase speed, and reduce costs for accounts payable. By eliminating manual data entry and introducing machine learning models and predictions, PredictAP can reduce errors and delays, and allow each AP specialist to process more invoices in a single day.
As a cloud-based SaaS platform built on Amazon Web Services (AWS) infrastructure, PredictAP also offers stability and scalable processing power.
President and co-founder Russell Franks outlines PredictAP's future plans: "We wanted to launch with a scalable solution that was truly cloud-first and felt ready to deliver on our promise to our customers. Based on feedback from our Alpha customers, we are now in a position to do so."
ABOUT PREDICTAP
PredictAP automates the ingestion, indexing, and coding of invoices for real estate companies, using machine learning. Unlike OCR and indexing services, PredictAP provides fully coded invoices, ready to flow through existing AP automation workflows. When paired with industry-leading AP automation solutions, PredictAP delivers massive cost savings and productivity growth. Founded in 2020 by a team of real estate, accounting tech, and artificial intelligence industry alumni, PredictAP is based in Boston, Massachusetts.
INTELLIGENT INVOICE CAPTURE
See How It Works